You know that four just wasn't enough!!!!
Yeah ... we are (as JC said) ... back to the Fab Five!
We are proud to announce that we are adopting another fine pup from ABCR!
(go buy one of ABCR's calendars in honor of Taffy and Merritt! - and in suport of ABCR's work!)
We are working to get a "delivery schedule" worked out in order to get Ms. Taffy "out west"
(if anyone is heading this way from the Houston area - let us know!)
... mom-D is going to be off work for a while, but dad thinks that he needs to be along for the trip,
since the new pup will need to bond!!!!
We will be meeting Landon in Kerrville on Sunday to pick up Taffy!
Her name is Taffy and she is about 1 and a half years old and weighs in at svelte 38 pounds!
She is classified by ABCR as "special needs" but all of us think that she's just perfect!!!!
.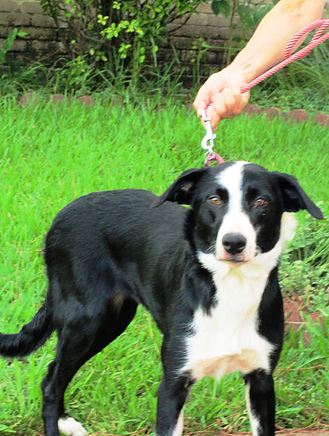 .
From ABCR ...
Taffy
Age: 15-18 Months
Sex: Female
Coat: Black and White, Smooth Coat
Weight: 38 lbs.
Good with Other Dogs: Yes
Good with Cats: No
Good with Children: Yes
Taffy is a sweet natured young active companion who would prefer to be a high energy dog. Sadly while in training to work cattle, she was seriously injured when a cow kicked her, severely dislocating a hip and ending her career as a working dog. Taffy required surgery (femoral head osteotomy) to repair her hip injury. While being diagnosed and treated, the vet noted the potential for her to develop hip dysplasia in the other hip. In consideration of this, Taffy should be limited from jumping or making tight turns, chasing squirrels, and other activities causing her to have jarring landings. She can run, wrestle with other dogs, chase balls thrown low, etc. Swimming would be excellent exercise for her. Taffy is not a couch potato though, and will require daily exercise; if she does not get enough exercise, she finds trouble to get into!
Taffy gets along well with other dogs although she can be a bit of a pest for geriatric dogs by badgering them to play with her. She routinely plays with an 8 year old female. She is neither a dominant or a submissive female.
Taffy would tell you she loves cats – loves to chase them, bark at them and if she has the chance, she will nip at them!
Taffy is good with children, preferable school age and older as she could nip toddlers and could also knock them down.
Taffy has been to public events, including the Houston World Series of Dog Shows where did fine with huge crowds, loudspeakers, and hectic environment, allowing children and strangers to pet and interact with her.
Taffy is housebroken and crate trained. She has been vaccinated, microchipped, spayed and is heartworm negative. She has also fully recovered from her surgery.
.
.
.
.
She sounds like a perfect "best (dog) bud" for Merritt (dad's a little concerned about his spot with Murr!)
who has been unsuccessful in getting the "other" black dogs to play with her!
We're excited and looking forward to meeting our newest sister!
We even found a cartoon and quote to welcome her!

You can judge a man's true character by the way he treats his fellow animals.
Paul McCartney
(both of these were in dad's email today!)