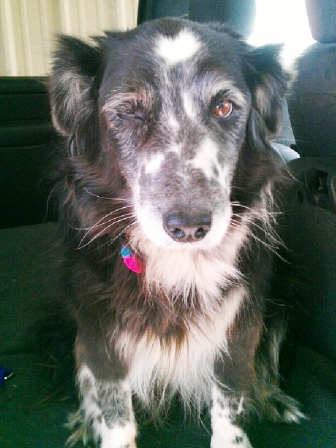 Ahoy Matey!!!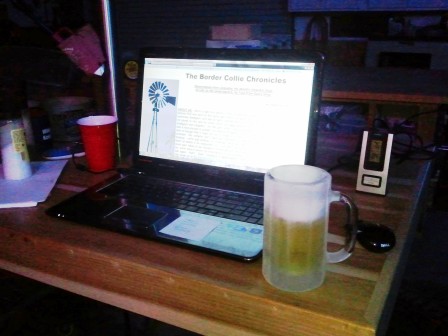 Just Writing!
Out Back.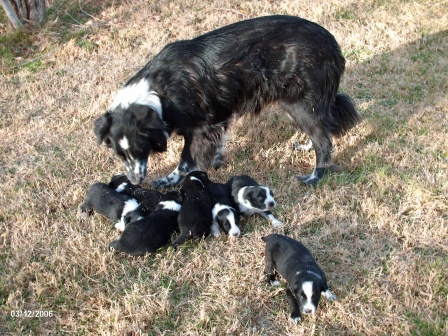 Roo's Litter Number One!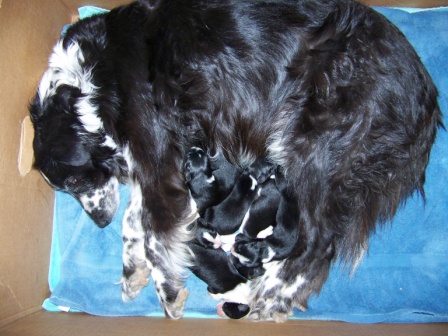 Roo's Litter Number Dos!
WOW … Thanks!
By Rooney
Well, "Ahoy Matey!" right back atcha! Dad got to telling us that story Monday afternoon after he got home, and I got to thinking that he generally lays it all pretty much out there in helping us write these stories. Things are shared that normally wouldn't EVER be shared – I mean really … folks don't want to know that much and that's too personal! We don't generally go round talking about all of our dirty laundry to anyone that will listen … but we'll post it on the World Wide Web??!! Doesn't make much sense, does it? Well, anyway … it has worked (posting on the web, that is) – and we plan to keep on posting our musings right here on the good ol' WWW!!
You may not have known, but we've recently been asked to do interviews and such regarding our new found celebrity status and thought provoking topics that have arisen from this prose (you know … shows like Dateline, 20-20, Good Morning America, The Today Show, Fox & Friends, Dr. Phil, Ellen, and of course, Beavis and Butthead … we've turned them all down (even that exclusive with Katie Couric – and Bubba thinks she's really HOT, if not all that smart!) – it's pretty tough for us to share these thoughts with anyone but dad – as a matter of fact, when mom-D wanders out into the shop, we leave! It's true! Dad's the one that shares it with all of ya'll via the internet … but I guess he respects our feelings since he doesn't speak of this "stuff" much outside of the website.
I don't know … maybe that's good, and maybe it's not! I visited with dad last night and he mumbled something about "keeping your bull in your own pasture" and that sometimes you just have to "bear your own crosses". I'm not real sure that I am 100% on this philosophy with respect to this topic – I have visited extensively with the other BC's, Dolly, Rusty, Jessie, Casey, and of course, my old friends – Pete and Maggie – anyway, we all pretty much came to the conclusion that since we are all buds (yeah ... even Casey) and we truly care about each other – that we oughta really just help each other bear their crosses – heck, let's all just help each other out. Yeah, I am in full agreement – in spirit … but, in reality … it's all downer stuff (of course, we happily share most of our "good" stuff!) that we're worried about! Don't want to dump our trash on the neighbor's place. But Pete reminded me that that sometimes, this is exactly what neighbors are for … still, that's easier said than done! Anyway … this (the website) serves as an excellent outlet for us (and we think that dad is probably embellishing some of the stories) to share some of our concerns, fears, thoughts, etc. with EVERYBODY! Yeah, well … we know that dad kinda put disclaimers on who he'd like for ya'll to be sharing the link with – we appreciate everyone being discrete – heck … the last thing that we want is for dad to catch any flack at work over these thoughts and musings … but, what will be, will be! Right?
Anyway – thanks for visiting and reading these articles. We're slowly, but surely, working on an attitude/tempo/topic change – if all the work stuff hasn't rung a bell for you … hang on, maybe we'll have something different coming. Feel free to share the link (readership is slipping) – yeah, we're still trying to be "discreet" – but how safe is life – REALLY?!
Ahoy Matey back to you, Nancy! Thanks! Really! That was the best greeting that dad could have received! It did catch him off guard – but it was a WONDERMOUS off guard! We all hope you had the most fabulous birthday on Tuesday!
PS – Also, giving a "Shout Out" to Roxy and Peanut! And, there are a couple of female pups for sale/adoption in Central Texas … Mom-D didn't convince dad fast enough this weekend to take one! They are BC, Aussie, Blue Heeler crosses (Rusty and Dolly's babies).
QUOTE TO PONDER:
I know, indeed, of nothing more subtly satisfying and cheering than a knowledge of the real good will and appreciation of others. Such happiness does not come with money, nor does it flow from fine physical state. It cannot be brought. But it is the keenest joy, after all; and the toiler's truest and best reward. William Dean Howells