Dogg Weiner
...
Snoop Dogg and the Weinermobile, the beginning of the Valuations and some long term Friendships!
By The BC Crew
Dad had met Christopher many years ago – 1996, we think – in some forsaken place between Lubbock and Amarillo … neither of them really wanted to be there doing someone else's job – both of them were trying to get an early release – neither was successful! They didn't have any kind of magic chemistry happen or anything - just two guys sent out to do a job, that geehawed ok. Dad was drinking some kind of health kick potion that mom-D had gotten involved with in some sort of pyramid scheme deal – we think that Christopher was sort of weirded out by that (since he STILL refers to it … we're pretty sure that mom-D still has some left in the hall closet if you want to get a heck of a deal on some!). Anyway, they finished their two week sentences and went back to their respective homes.
Not much, if any, interaction for quite a while. We suspect that neither of them gave too much thought to the other … the next thing that we knew (June 2001) … Christopher was in the Ovary Tower! Yeah … he became one of them … an SOB! He and dad then started having more and more interactions. Initially, all of them weren't all that smooth – but they both pretty quickly settled on a main common premise – "Hey … let's try and maneuver this process into something that resembles common sense!" Nothing builds camaraderie like a common enemy (and boy oh boy … they had one (and at times … several!))
Their relationship ran on like this for a pretty good while – they had some common "projects" – Kathy, Stacy, Matt … later, Lee, Stacey, and Grasshopper (most of whom did not know the extent of the bond and friendship that surrounded the two! Bless their hearts!) … but somewhere around the summer of 2004, a decision was made that brought dad and Christopher even closer than they were before. Their relationship increased and intensified! They each discovered an even closer enemy that they knew that they had an even better chance/opportunity to defeat … The Valuations! A common enemy that "mind power" alone could defeat!! (It was pretty "iffy" at first though!)
They were five strong … dad, Edmundo, OED, Christopher, and Tom (this really IS in alphabetic order) … and they started out, much in agreement (philosophies, principals, and mainly an enemy), but they still found some items to dispute over – but most importantly, they all discovered a mutual liking and respect for each other!!
There were certainly many interesting developments during their respective "tours" … but the one that we want to discuss in this article is a couple that occurred in Indianapolis, during the Brickyard 400 (it seems like this is a BIG deal, but we're not really racing dogs, so we're not sure why!)! Anyway – they were staying in a pretty fancy motel that had a pretty nice bar (I think that dad and Edmundo frequented it more than the others – except maybe Tom (especially in the last few days of the week)). Christopher would come down at a "respectable" time and OED would show up when it was time to leave the bar to go and find something to eat (but, truth be told, as the Valuations continued – they all started meeting earlier (dad and Edmundo still always found a spot first) – OED would even occasionally get there early enough for a pre-supper beer – and he had more birthdays than years during the time that they were together – especially when they frequented "Hooters"!) One day during a break from the Valuation Class, someone noticed that the Oscar Mayer Weinermobile was in the parking lot! Of course, everyone in the class (including the instructors) went outside to check it out! That's when the drivers (yeah, it seems like it takes two folks to safely operate the Weinermobile) came out and offered to take their picture – kinda silly, but good times none the less!
Later that same week (Friday afternoon, to be precise), after class, dad was the first one of the group to make it down to the bar … but his "spot" was occupied! As a matter of fact, the whole bar was packed! There was only one spot at the bar that was open, so dad sat down next to "Mr. T"! There were also a lot of "T's" friends in the bar that afternoon as well (certainly a different crowd than had been there all week long!). After dad ordered his frosty, he quietly asked his friend, the bar maid, what was going on? The bar maid whispered back that Snoop Doggy Dogg was playing at the Brickyard that weekend and had rented the third floor of the hotel. Now dad can surprise you at times with just how "sophisticated" he is … while he did not know a whole lot about Mr. Dogg, he had seen some news articles and knew that he was a big time hip hop type of musician that really liked to smoke dope. He wasn't real sure what he looked like, but seemed to think that he was a little on the scrawnier side – it certainly wasn't that Mr. T fella sittin' next to him at the bar! He kept on thinking though, and started using that ol' deductive reasoning that he'd been honing throughout the Valuations, and he decided that all of these new folks in the bar must be Snoop's "posse". So, just as soon as most of dad's "posse" showed up, dad got brave and asked Mr. T if he was with Snoopy? T was leery, but finally answered "Yeah. Why?" Dad then replied "Well, I've got my hat on and everything, and I wondered if I could be in the posse too?" At first T, looked fairly agitated, then he FINALLY chuckled and said that he didn't think so – he then went right back to ignoring dad!
(Whew!)
They started out as the Fearsome Five, but suffered an early casualty with Tom … they then became the Fabulous Four and had a pretty long run (and some wonderful times). But OED eventually became battle fatigued and, shortly thereafter, Christopher was taken out by "friendly fire" (or not so much). This left just Edmundo and dad – they both fought valiantly for a fairly good while, but after they each made a full assessment of the situation … they BOTH abandoned ship – good news is that both survived (and are "living large" under new titles). Christopher recovered and also later escaped and is "living large" under a new title as well!!! Woo Hah!!! Life is MORE Better than Good!! 26° 30' N don't'cha know!!
While all five were buddies, Christopher and dad developed a special connection and remain close friends to this day. They never made any special effort to keep their friendship a secret from other folks – but many folks didn't realize just how tight they really are! They shared info and "secrets" about their "projects" without openly giving away the source and kept "the kids" on their toes. Many folks confided in Christopher about their complaints and gripes on dad, and it happened a couple of times vice versa!! No worries, it helped them both grow!
Dad felt really honored to be invited to a surprise birthday party for Christopher, and was truly honored to be in the wedding party! They kept, and keep, pretty close and confidential counsel. When dad agonized (and that's really what it was) about leaving that 23 year "comfortable" job (that had become much less comfortable – i.e., the position STILL hasn't been filled) Christopher was an excellent sounding board and a voice of reason – both the pro's and con's – for dad (and that was extremely appreciated)! Dad just hopes that he was at least a little helpful (though admittedly biased) when Christopher was contemplating following HIS arrow!
Well, we hope that you enjoyed this installment of "Throwback Thursday" about that "secret friendship" between Christopher and dad!
Some Favorite Quotes
If a man does not make new acquaintances as he advances through life, he will soon find himself alone. A man should keep his friendships in constant repair.
Samuel Johnson
Talent is cheaper than table salt. What separates the talented individual from the successful one is a lot of hard work.
Stephen King
The best leader is the one who has sense enough to pick good men to do what he wants done, and self-restraint enough to keep from meddling with them while they do it.
Theodore Roosevelt
Think enthusiastically about everything; but especially about your job. If you do, you'll put a touch of glory in your life. If you love your job with enthusiasm, you'll shake it to pieces. You'll love it into greatness.
Norman Vincent Peale
Perhaps the most delightful friendships are those in which there is much agreement, much disputation, and yet more personal liking.
George Eliot
.
Editor's Note: Yeah … Christopher is also JC (and dad has been known to refer to him as "Sweater Boy") … He's also Maggie's dad! Re-read Follow Your Arrow for a more complete insight to the last paragraph!
.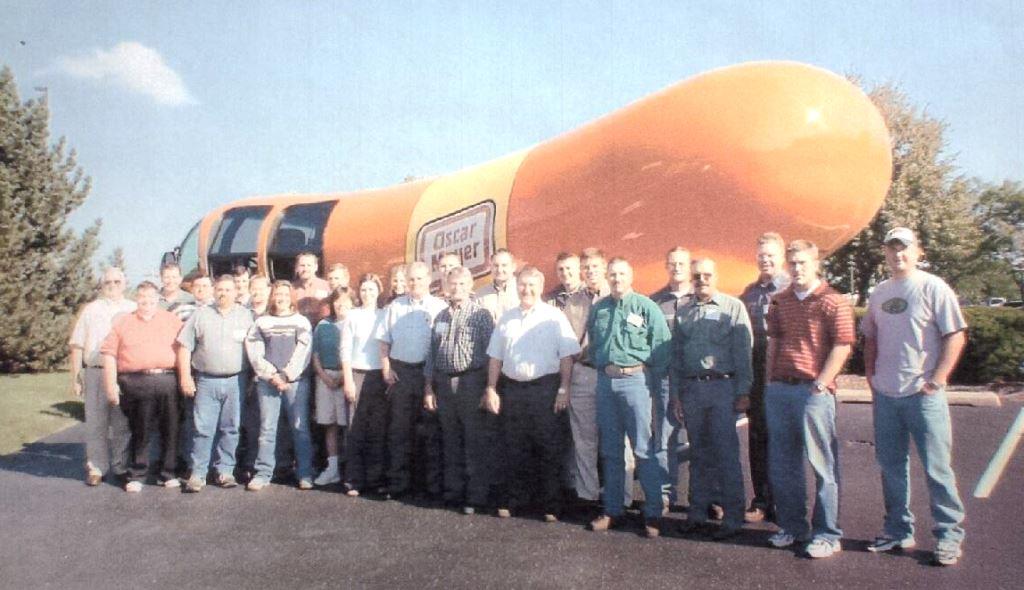 We wouldn't EVER lie to you!!!