Mom-D and dad have "done it again"!!
Yeah ... they adopted another BC! Her name is ... Sassy!

Sassy comes from All Border Collie Rescue (just like Merritt and Taffy - you can make a cash donation to ABCR in honor of this adoption, if you'd like)!
From ABCR: She is reported to be ; ) "a young sweet dog who is a little shy with new people but does warm up nice. She is being fostered by Emma, who was Coffee's (now Cooper) foster (this is the buppy that dad guilted JC and Mom-A to adopt)! She was in a home with dogs aged @ 3-16 years of age plus a couple of cats. She's a very clean dog. Her bio mentions her creating a bathroom area in the barn of the family who found her. We found it very humorous. The couple who found her (and an apparent littermate) on their rural property put the dogs in the barn because they had 4 dogs in the house. They had bales of hay stacked in the barn for their donkeys. Sassy climbed one of the stack to the top and pushed off the top bale, then came down and tore the bale apart moving hay to another area of the barn. Every day, she would move the soiled hay to the back and go get more clean hay from the torn bale. The couple put up a 10x12' kennel inside the barn to make sure the dogs would be safe during Hurricane Harvey and they put a bale of hay in one corner of the kennel. Sassy did the same thing, making a potty area and keeping it clean!"
We understand that her littermate was adopted by the first rescuer (ain't that cool)!
We are excited about her joining our happy troop! Dad and mom-D hope to pick her up on Saturday in Fredericksburg.
Without a doubt, there will be more to come!!!!!!
We continue to be blessed!!!!!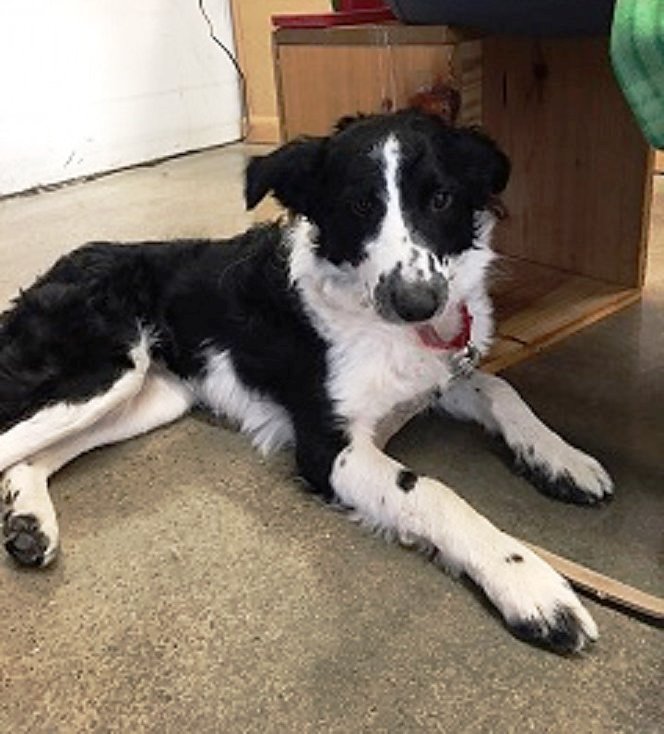 Plus ... she has a lot of similarities in looks to our Rooney (mom-R)!!
Love her long time, already!!!!!
UPDATE: February 17, 2018
Dad and mom-D made the trek to Blanco (and back) to pick up our new sister today! They left at dawn and got back at dusk ... long day in mom-D's black truck!!
Here is a recap of Day 1 (as dictated by Sassy (yeah ... a recurrence of that opposable thumb issue again!) ...):
Scared ... heck ya I was!! The day started out like all the others for the past few months ... then I went to town and my people left me with someone else. I could tell that my foster mom, Emma, wasn't really excited about this deal - but there I went!
We then drove, and drove, and then drove some more! (Emma tells me that I get car sick, but with the exception of the stop at Wal-Green's in Kerrville where the guy (he was driving and his name turned out to be Bill) took me to go potty (I peed and pooped real big!! ; ) ) while the lady - her name is Daila (she mostly slept) - got herself some medicine, but I didn't get sick at all!!) So, finally - at dang near dark - B said, "Hey Sassy! We're HOME!" So I stood up on the windowsill of the truck to get a good look around at what I'd gotten myself into! It was pretty interesting, so I ran to the other window and looked out - looked ok too!
B let me out of the truck - or actually, I led him out of the truck, and then all the commotion broke loose! I could see these four dogs barking and raising cain through the french doors of the house! B let them out and I just peed ... right there ... on the concrete ... under the carport ... I mean, I couldn't hold back - and I peed A LOT! The dogs weren't acting mean - just inquisitive and active! And this one ... he had the hugest head that I have ever seen on anything - except that one Budweiser horse on the TV - his name, I learned in a little bit, was Bubba (I bet he can hold a BIG porch down!!)!
Anyway, introductions were starting to be made and Bubba (the BIG one) and Annie (I'll refer to her as the quiet one) just kind of ignored me and paid all of their attention to B&D. Then I just started checking out the accomodations when this white, hopping blur flew past and nearly knocked me down - I then realized that it was the three legged legend, a white BC (her name turns out to be Merritt). Well come to find out, she didn't mean to get that close to me - she was just chasing her best dog friend Taffy (a long, lanky, kinda ugly BC). Come to find out - even though she is kinda ugly, Ms. Taff is the sweetest and most gentle BC on the place!
B&D then took me on a tour of the place - but quite frankly, I don't remember much of it since all these other dogs were running and playing, and - honestly - I had a heck of a mixture of excitement, dread, happiness, worry, amazement, and I was just more than a little scared - it was A LOT to take in!!!! We then went into the house - all the dogs then just kinda assumed their places, but B&D sat on the floor in different spots and called me and loved on me ... that was cool! But the other dogs (even Annie and Bubba) got out of their spots and pushed me out of the way to visit with B&D. But after a while, they went back to their spots and just napped. So I was able to get some good "sniffing time" in on B&D then. They smelled pretty much OK.
Then we had supper! It was good!!! I really liked that part! Everyone got their own plate and D (and even B) stood out there to make sure that everyone ate everything on their plate and that no one shared! (I understand that Merritt likes to help D out by taking care of any leftovers (even before they've had the chance to become leftovers!!)) We (the BC's that is) all then hung out by ourselves in the back yard - B closed the gate, so I couldn't wander around the rest of the yard that I had toured earlier, but that's ok - the back yard is BIG and even has a doggy condo in it!
B then came out and asked if anyone wanted to go shoppin'!!?? That didn't sound like too much fun to me, but since all of the other BC's acted super excited about it (I even heard the freakishly huge monster dog, Bubba, wimper and cry) so I acted super excited too! Turns out, we didn't go to Beall's, or even Tractor Supply - we went into his barn! But the barn was cool! There is a TV and a stereo and lots of other neat things (including dog beds and mats!)! I scoped out a 35 gallon trashcan that almost certainly has that same delicious dog food in it, and a HUGE bottle of Milkbone dog treats!!!! Ummmmmmm ... love me some Milkbone's!! So we all hung out in the barn. It started getting cool, so we closed the door and B lit a heater! Felt nice!! Bubba laid under the heater table where B was sitting and Annie took the dog bed under another table. Then Merritt and Taffy started fighting - I was really uncertain what to do and looked to B for some guidance ... he just sat there grinning like a fool! I then double checked, well ... they weren't really fightin', they were just playing! So, I trotted over wagging my tail high - they stopped and looked at me and ... well, I got scared again and just walked away.
I must confess that Ms. Taffy play bowed to me numerous times and Merritt did a couple of times too - but I wasn't real sure how hard they would play, so I just ignored them. But I understand that this is now my FOREVER home, so I expect that I'll have time tomorrow (and also after that) to play with them (that three legged dog looks like a tough match though!).
So, we just hung out in the barn for a LONG time ... D came out for a while. B fiddled with his computer and phone for most of the evening ... but I heard several comments about me:
She is really small - shorter than Merritt and much lighter.

She is a lot younger than I thought - I'm not sure she's a year!

She is really thin ... she needs some weight!

A rough coated BC ... didn't see that in the picture.

She looks a lot like Mom-R, doesn't she?

Precious ... isn't she!

I think she must've originally been from South Houston!

Even her whiskers are curly!!

I sure am glad she chose us!!!
I'm not really sure what to make out of these comments ... but since I can't find a way back to Blanco - I guess I'll just ride this thing out! Plus, I hear that they have a swimming hole close by and Merritt tells me that it's cool!
I'll report more as time permits!
From my FOREVER home ...
Sassy (which might have to be changed, since with B's mumbling, Taffy is just about worn out coming over every time he calls me!)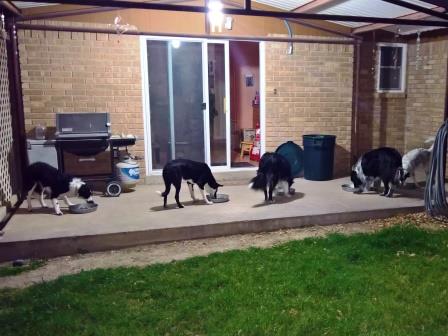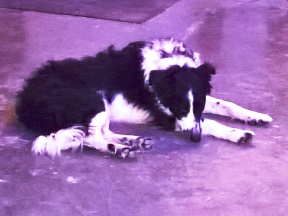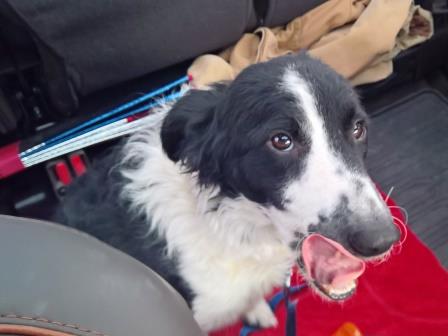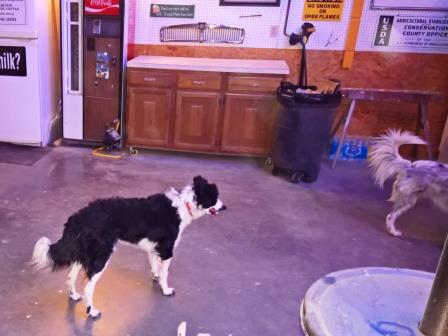 .
.
.
.
Plenty more to come folks!!!!
God is Great ...
Life is Good!!!!