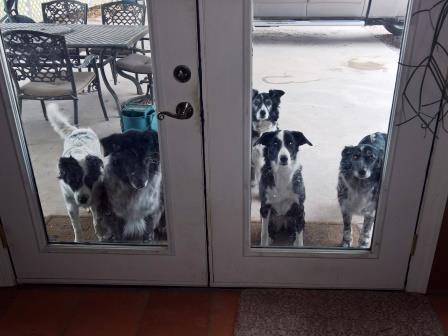 Be Careful What You Plan …
The BC Crew
.
.
.










Many years ago …
Right here on this place …
But before any of US bupps were around …
It was a period of general good feelings.
Spring had come, plants were coming back to life,
as west Texas awakened from its winter slumber.
A young man sits in the shade, watching the sun begin to set,
reflecting on the chores that he had accomplished on this day.
Hardway and Rooney are keeping him company,
even Shooter is close by!
He has a supply of silver bullets, and he isn't afraid to use them!
Then … in the distance, he spies a young maiden toiling in the fields
(well maybe she was just finishing up the yard work).
As he sits there enjoying the view of the place (and enjoying several cold ones),
he gets a little sentimental about the maiden's hard work
(cold beer does that to him sometimes!).
Much, much later that evening, as he reposed in his lair,
(after several more emotion inducing beverages)
he kept thinking of ways to reward the young maiden
who continued to toil as he watched the day come to an end.
It was a warm night, so the door to his retreat was still up
(he did not yet have wi-fi in his hideout),
so of course, he was able to get on the internet.
That's when the plan began to take shape …
and that's where our story begins …
(we couldn't figure out how to make this scroll like the original Star Wars crawl<![if !supportFootnotes]>[i]<![endif]>, just imagine the music though!!)
Well, it was about that time that dad got the idea to plan an exotic vacation for the two of them … he searched … and searched … and searched the internet, and scored what sounded to him as an exciting vacation … Nassau – in the Bahamas!
He went ahead and booked the trip (hotel, flight, ground transportation … the whole ball of wax!). He passed out … we mean went to sleep … a happy boy that night! The next day as he woke up, he thought about the previous evenings (and early mornings) activity and after he got to work, he thought up some additional questions that didn't occur to him on the previous evening. Primarily, what were the entry requirements to get into the Bahamas … and what did you have to have to get back into the good ol' US of A?
He went ahead and took the rest of the day off so he could do a little more research … as it turned out, it was pretty simple since this story takes place before the 9-11 terror attacks, all you needed was your birth certificates! Problem was, he was trying to keep it all a big secret from mom-D and she was the only one who knew where their birth certificates were!
More research, he discovered that as long as you were born in Texas, you could get a copy of your birth certificate at any courthouse in Texas! He ran down to our courthouse and got his without much problem … but, his whole life he thought that he had been born in Tarrant County, and come to find out he was born in Dallas county (Grand Prairie sits in both counties)! The County Clerk was a little hesitant to give dad a copy of mom's birth certificate … he then explained the reason that he wanted it, and that the trip was a surprise … we think that he even offered to go back to the house and get the flight confirmation print outs. The county clerk finally figured out that dad didn't have any malevolent plans for mom, or the need for the birth certificate, and she relented!
Then it dawned on him that he needed to tell mom something so that she could take some vacation time. He told her that he had planned a special surprise trip for her and she needed to take a week off. Initially, she was excited … she kept pushing dad for details, but he held his ground and kept telling her it was a secret! All went well until she started packing … she asked what to pack? How could he tell her what to pack without telling her where they were going? Since it was May, he told her that it might be someplace cold, or might be somewhere warm … might be casual, might be fancy! He is soooo smart … until he saw the suitcases! She had five packed … and that was just HER stuff! OK – maybe he wasn't quite that smart! He went ahead and told her warm and casual. But he still didn't tell her where they were going, or how they were getting there!
Everything was going good until he told her that they weren't leaving until after work one day and they were going to stay the first night about 90 miles from home … mom-D got pretty concerned, curious and even a little nervous at that point and pushed dad pretty hard about the details. He knew that the gig would be up as soon as they were checking bags at the airport since the ticket taker always asks about your final destination! So he told her – she says that she was really excited … but was more relieved!!!!
You see … she later fessed up that she had left strict instructions with her friends that if she didn't come back that they were to start looking for her and that dad should be "Person of Interest #1"! Hmmm, maybe it wasn't such a "period of good feelings" after all!
So, you see, our friends … You have to be careful when you plan!
However, they had a great trip (dad still says that he is going to retire in the Bahamas one of these days!) and he is busy making plans for this year's trip to "the islands" (wherever the islands might be this year)!
Hope everyone has a most WONDERMOUS day/week/year!!!
The BC's