ABOUT US AND THIS SITE:
This site originated back in 2011 by a tight knit family of five wonderfully smart BC's, all birthed by the famous Rooney (and sired by the same dad - Mom-R was a "good girl" don't you know!), and a couple of humans! As an extremely intelligent family of BC's, late at night - in dad's shop - we visit with him and he records our sage advice (even though we're extremely intelligent and insightful - we still can't write due to that dang opposable thumb issue!) In any event, dad publishes our thoughts, concerns, and observations on this ol' world wide web for all of our friends to enjoy and consider. Nothing written here is intended to be malicious or hurtful ... HEY, it's just OUR thoughts. You don't have to agree with them!!! If you disagree, write us back at BC-Chronicles@hotmail.com and give us YOUR thoughts!! You won't offend us - and we'll even publish them (but only with your review and approval!)
It all started when our main human (we call him "dad") got the notion of posting some musings on the internet. You see, he'd been writing some silly little articles for quite a while and some were even published in his work association's newsletters. In March of 2011, we lost one of our bestest human buddies and then it seemed that dad's job started really stinking (or maybe it just started getting to him since he wasn't able to vent as regularly as he did when ol' Donald was around!). Well, we all really started working on articles - at that time, mainly about dad's work - and after we got a batch of them compiled, we decided that we wanted to share them with a lot of folks (since we naturally thought that they contained some very wise and sage information! A couple of his esteemed work colleagues advised him against publicly sharing the articles since they believed that they might upset the "establishment". Well, after some deliberation, and against their recommendations, dad went ahead and created this website and published the stories ... in semi-secret though! Few people knew of it's existence, but it was an instant HIT (for dad anyway!) - he found that he was able to vent his concerns, fears, and anger through the writings and he helped introduce all of us to all of you!! He still enjoys this site and even though we still don't have a very wide readership - that's ok too!
This is definitely intended to be a family friendly sort of site, though a small amount of "colorful" language may come into play (but only to emphasize specific points). This is really just a way to vent our thoughts, concerns and ideas --- kinda like our own BC "SpaceBook"©. We certainly hope that you find these musings either thought provoking or amusing (hopefully both!!) Some of the articles are pretty much "work related", some get somber, some are intended to be "deep", we hope that at least a few are considered humorous (from a BC point of view, anyway!!), and some may get a little political ... but we try not to get overly political! In any event - we LOVE publishing these ruminations and will continue to do so as long as it remains therapeutic (and it is still very enjoyable and helpful!) Dad has been at a new job for a pretty good while now, so many of the old "issues" are a thing of the past - thank GOD! Since the "establishment" doesn't concern us any longer ... please feel free to share the site with everyone that you think might enjoy it!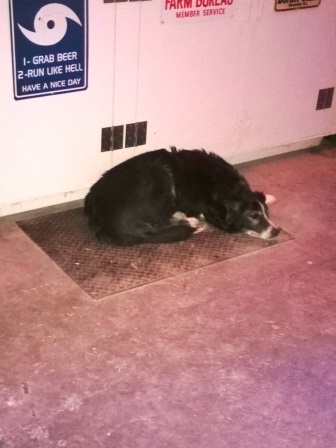 Annie
Bubba
CAST OF OUR TYPICAL, BUT "IRREGULAR" CHARACTERS:
ROONEY, PATCHES, and GALL - Three of the orignal founding members. Rooney was the momma of the originals. Patches and Gall were littermates, sisters and best buds. We lost Momma Roo (Mom-R) and Patch to multiple rattlesnake bites on August 15, 2015 (all 5 of the buppies of the day were bitten in that attack!) Baby Gall died of natural causes on October 4, 2017.
HARDWAY and SHOOTER - (H and Shoo) Both had passed before we started the website, but both were our Buppies and are referenced in some of the earlier stories.
ANNIE - aka Ann, aka Annie Bannannie, aka Anne Marie, aka Ani, aka Speedy, aka Spency Girl 2, aka Buppy. A full sister to Gall and Patches (though not a littermate). I bet you thought that fixing up Hardway and Patches was expensive ... not compared to Spency Girl 2! (then add on the 2015 snake bite treatments!) She is aloof!! Sickenly sweet (but only when she wants to be!) Enjoys her time alone. Aggressive, but loving - she semi-patiently waited to become the Matriarch (but we are not sure that either she or Gall fully understood that concept ... but Merritt figured it out!!).

BUBBA - aka Big Boy, aka Buddy, aka Chewy, aka Riggs, aka Buppy, aka Freakishly Huge Monster Dog. Annie's littermate. He is freakishly HUGE and simply adores dad and adored Gall as well. The only boy BC on the place - he's been fixed (Bubba that is, not dad!) Joyous and Happy - always ready for an adventure (and every day seems to be an "adventure" for Mr. Bubb) ... Well, Bless His Heart! He is STILL all puppy and all boy!! Bubba is the sweetest boy ever and gives the BESTEST hugs of all the BC's!!!! Annie and Bubba are 10 years old (February 19, 2010 models).

MERRITT - aka Murr, aka Me're (i.e. - coME heRE), aka Hero!, aka Buppy! A rescue dog that became a part of this crew as a late Christmas present for ALL of us on December 27, 2015. Dad "found" her on the internet back in October 2015 and after a thorough application process, the folks at ABCR agreed to let her go to a new family out in west Texas! She is a 6 year old, three legged girl that got into some trouble in her "other days" and lost her right rear drive line. Gall would tell her that while that does make her special, it doesn't necessarily justify special treatment ... but she knows differently ... ! She has taken on Matriarchal duties, loves her Forever Home and will certainly let you know that she is in FULL CONTROL of the gator!
TAFFY - aka Taffer, aka Taffy-Taff, aka Ugly Dog, aka Buppy! Miss Taff came to us as a rescue dog on November 6, 2016. She, like Merritt, came from the good folks at ABCR! She got kicked pretty good by a cow as a young un and has some major issues with her hind end ... that doesn't slow her down any at all though! Like her sister, Merritt, and the sister that she never knew, Patches, she is all dog and ready to ROMP! She is also definitely the fastest one of the group (we think her daddy might've been a greyhound! ; ) ). Our sweet, happy, loving, gangly, (and Ugly Dog) is considered a 5 year old.
SISSY - fkn Sassy, aka Sister, aka Flirty Girl, aka Buppy! Sissy is our third rescue dog from ABCR! She came to us from Baytown, via Blanco, on February 17, 2018 with the name of Sassy. But with dad's mumbling, both she and Taffy were getting confused - so we renamed her. We were told that she was about a year old when she rescued us. Dad says he fell in love with her picture since she resembles Momma Roo ... her hair is a little more curly, but she already has her voice, gently 'splaining her desires! She is a little reserved, but is loving life! Sissy is 3 years old.
MOM-D (the human, not dog) - aka ... Nah, we won't go there! The "tender to" of most of our needs! We love her bunches!!!
DAD - The authoritarian and our bestest human buddy! He spends a lot of time in his shop - with time to sit and write - but also did some time "Driving and Thinking" in his younger days.
GUEST CONTRIBUTORS - To date, we have received "Articles From Friends" from Lucy, Maggie and Allie. We certainly appreciate the insight, stories and love from our Friends!!!!
If you would like to share your thoughts, musings, and/or stories on this site - WE'D LOVE TO RECEIVE THEM!!!! Please forward them us and we will get them posted and give you the "secret" link to the story and full review rights before we "go live" with your story!
We'd like for all our friends to have a post, or ten, on this site!!!
We would be HONORED to receive your guest articles!!!
Remember ...
No man has the right to dictate what other men should perceive, create or produce,
but all should be encouraged to reveal themselves, their perceptions and emotions,
and to build confidence in the creative spirit.
Ansel Adams
Most of these articles are written as we perceive the BC's to be thinking and rationalizing …
We believe them to be funny and thought provoking,
since they are written in the perceived writing style and thought processes as such.
If you do not find them funny, or thought provoking, it could be that the subject matter hits too close to home
(and that makes you uncomfortable), and you may be taking yourself way too seriously.
If you still do not find the articles entertaining, it could be because a joke loses its humor when it has to be explained to you!!
Just go ahead and hit that big X in the top right corner of the webpage.

Thank you, have a nice day!