Dang this is pretty!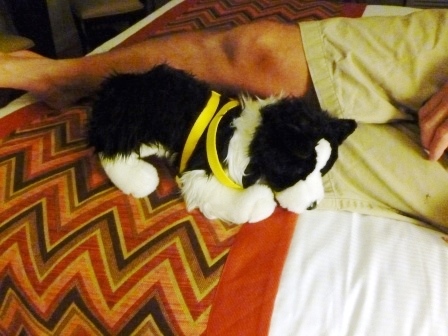 Resting with dad!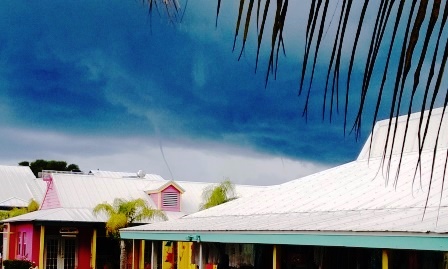 Water Spouts!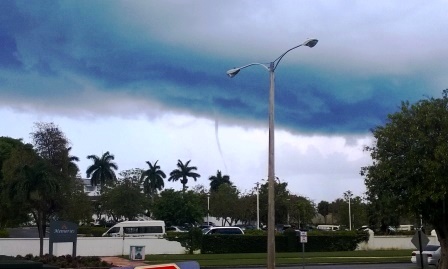 I mean Tornados!
Pretty Nice Pool -
Not so great of a view right now though!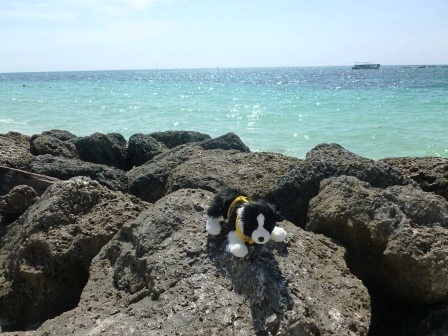 Rip Rap!
Love me some palm trees!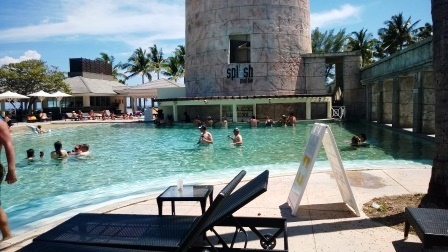 Where's Waldo(s)?
Yeppers!
Can't wait for next year's tropical destination!
26° 30' N[i] …
By Stuffed Roo[ii]
Well, really all of us started this trip with pretty good overall attitudes (even though me, mom-D, and dad started out at 30° 89' and Christopher and Angela started at 30° 62'). But it all only got better since we all had a really good, relaxing time while we were there – and it just improved the attitudes!!!
Yeah, what a time I had this year!! Mom-D and dad took me BACK to the Islands!! We again went with some dear friends, but unfortunately, like last year – others were planning on coming, but couldn't make it – missed ya'll! I did feel a little guilty about going this year since our neighbor to the south was unable to tend to the rest of the crew … but fortunately for everyone, H & C stepped up and cheerfully picked up the duties … Thanks Guys!!!
It was a really easy, laid back trip this year … mostly lots of lounging and soaking up some rays! No significant excursions … and even immigration was way more relaxed – well, except for when we were leaving. I was packed nicely in the suitcase and I knew that I'd just been checked in at the baggage counter when I again heard dad's voice! What was wrong? I knew that we weren't all the way back home yet, and then, all of a sudden, the suitcase opened up and some strange guy picked me up!!! Mom-D explained, "That's our stuffed Border Collie. We take it with us on vacations so we can pretend that we are vacationing with our dogs." The guy laughed and replied, "Kinda like the travelling gnome?" Anyway, it was all good, just a random inspection to make sure that mom-D and dad weren't smuggling anything back to the good ol' USA!
The weather was simply beautiful! The winds were relatively calm! The water was gorgeous and refreshing! And the sun was out! The ladies were wise and applied sunscreen pretty liberally – they really enjoyed lounging on the beach and by the pool! Dad is always in shorts … but he did use it when he took his shoes and shirt off! The other person in our group (who I won't name, so as not to embarrass him!) didn't think it through so well … he looked really 'rare', but I think he was really 'well done'!
One morning, everyone did head over to the straw market. Mom-D already had her mind set on getting her hair braided – and that's exactly what she did! Looks pretty cool too!! The other three two legs went wandering around – guess what they saw? On that morning, there were a reported seven tornados (don't make the mistake, like dad did, of calling them water spouts around the locals … they tend to get a little offended! But that is exactly what they looked like – pretty big dirt devils with water instead of dirt!) Come to find out, they are not common at all in the Bahamas, but thank goodness that none hit land and we heard of no damages or lives lost!!
Yeah, overall a WONDERMOUS excursion! Attitudes were good starting out, and they just got better (I'm still thinking that that little ol' 4.5° change in latitude definitely added to it!) It seems to me that sometimes changes in where you're at can really improve outlooks and dispositions! Which, of course, improves performance, points of view, character, temperament, mood and personality … which is, of course, attitude!!
Sometimes folks offer the advice "Maybe you need to step back and take another look." This is really just the same thing! Re-evaluate your situation … figure out the next step! Maybe you step right back in and tackle the job at hand! But sometimes, after you review the situation … you realize that the best choice is to run like hell to a new latitude! Dad did – many did before him, and others will also come to that realization! Don't be afraid to ponder the possibility (and act, if necessary).
Hey … Life is MORE BETTER than good!! Carpe Diem!!!
Love you long time!
As a post script, this would not be very good reporting without the following comments:
Be careful when you're on the Islands and order a "small" frozen banana drink! You may be surprised with what you get!!

Dad can become pretty bothersome and exasperating when he discovers, late in the afternoon, that he can handle chopsticks like a "native"!

When you go to certain places in the Islands where the drinks are free, it is NOT uncouth to take your own Bubba Mug … REALLY!!!

If your legs have not seen the sun in 15 or more years … don't try and be macho … use sunscreen – generously, and often!!!!
.
.
.
.
.
..
.
.
.
.
.
.
.
.
.
.
.
.
.
.
.
.
.
.
.
.
.
.
.
.
.
.
.
Sorry ... but you KNEW we just
HAD TO!!!!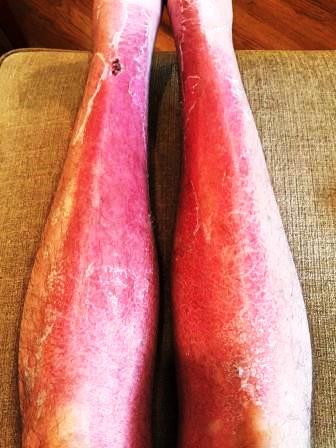 ---
[i] The latitude of Freeport, Grand Island, Bahama (or, the alternate title "Changing Your Latitude Might Just Change Your Attitude!")
.
.
.
.
.
.